Download
---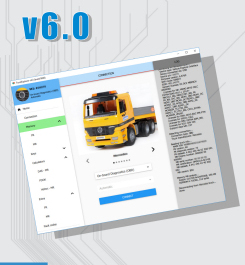 TRUCK EXPLORER v6.x

Our clients, who have valid Update/Support subscription and a new VEI V6 device must use Truck Explorer v6.x software.

Software installation and VEI activation manual (PDF)
---

TRUCK EXPLORER v5.9

Our clients, who have VEI V4 (V5) device must use Truck Explorer v5.9 software. Software released in 2018-05-23.



---


Truck Explorer for Android

For phones/tablets, we created Android mobile app: Truck Explorer
Simple and useful. Now works with IOS as well!



---

Our clients, who have valid Update/Support subscription and have VEI in plastic case needs to use Truck Explorer v3.0 software.

TRUCK EXPLORER v3.0 (8 MB)


Note: MB Truck Explorer v2.2 software not supported from 2014-10-31.
---
PSA Explorer v1.9 (13 MB)
What's new in v1.9:
* more error explanations added
* "Verify PIN", "Read immo info" functions added
* BSI connect bug fixed, please update your devices.
* Support of Siemens BSI (CAN) added (Peugeot 407 2006 and some other cars)
* GUI: key programming wizard is more comfortable now.
* Support of newest Continental BSI added (Citroen C4 2010+, DS4, DS5; Peugeot 508).
User Manual instructions (PDF)
---
Multi Bank Linear Flash Card

Manual instructions (PDF)
---
VEI USB driver installation (1.3 MB)